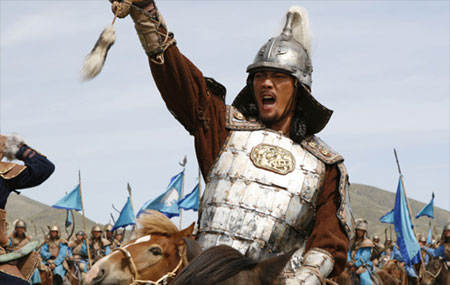 With Ben currently in London on a recon mission scouting the very best Euro-trash talent and studying the history of our very own English language, I figured it was time for Setonia' second installation of "What's in a Name." The first installation proved to be an in-depth analysis of Gonzo journalism, researching the similarities between Hunter S. Thompson's writing style and our very own Head Coach Bobby Gonzalez. In an effort to honor the Hall's most recent recruit, this "What's in a Name" will explore the peculiarities and uniqueness of the name Farrakhan Hall.
First things first, lets begin with Hall's first name. The name Farrakhan has undoubtedly become synonymous in recent years with the controversial figure, Louis Farrakhan. However, a closer look at the name Farrakhan reveals the Central Asian term for "king" or "ruler" - i.e the long lost brothers, Genghis and Kublai. Putting aside the controversial Louis Farrakhan, if Hall can somehow tap into his Central Asian roots and learn from his ancient ancestors, I'd welcome his leadership and sovereignty with open arms.
Now, for the obvious part. Farrakhan has the distinct pleasure in being named for his future school...or is the other way around? One can only wonder how much of an impact having the same name as the school he was being recruited by had on his eventual decision to come to Seton Hall. Or, you can only wonder what was going through Derm's mind when he was scouring Konchalski's ratings and noticed Farrakhan Hall's name. Can you say love at first sight?
Whatever it is - his royal roots or eerily similar last name - I'd like to welcome Farrakhan Hall aboard this great Pirate ship. Just dont go pulling any stunts and name your children Setonia....